Introduction
Tropical rainforests cover only 6% of the planet's surface but are home to over 50% of the world's terrestrial plant and animal species. On plants alone, tropical rainforests are thought to be the exclusive home for 170,000 of the world's 250,000 known plant species.

Estimated to be 130 million years old, Malaysia's rainforests are host to some of the most diverse tropical ecosystems in the world. Scientists estimate that up to 20% of the world's animal species are contained within our rainforests. Recognized as one of the world's biodiversity hotspots, Conservation International listed Malaysia as one of 17 countries described as "mega diverse."

The Penang Hill permanent rainforest reserve (gazetted 1911) is a treasure trove of biodiversity. During the Habitat Bioblitz in 2017, over 2,500 species were documented here, some previously undiscovered to science. This became the basis for the successful nomination of this area to be part of UNESCO's Man & The Biosphere Program. Biosphere Reserves the world over are celebrated for their exceptional biodiversity and distinct social landscapes, as well as for their potential to demonstrate innovative ways of living in harmony with nature.

Our park sits on the fringes of the permanent rainforest reserve and is a gateway to experience all the wonders of the UNESCO Penang Hill Biosphere Reserve.

We hope you enjoy your time with us.
---
Park Map
• Our park trail is approximately 1.6km long and is paved with HYDROMEDIA®, a non-slip, permeable concrete that absorbs rainwater off its surface and releases it slowly into the soil below.
• Our park trail is accessible-friendly except for the path up to Curtis Crest Tree Top Walk. Kindly get in touch with us for further information pertaining accessibility.
• There are several points of interest along the way, apart from the myriad of flora and fauna discoverable along the way.
---
Park Highlights

Developed by the British India Company in the 1880s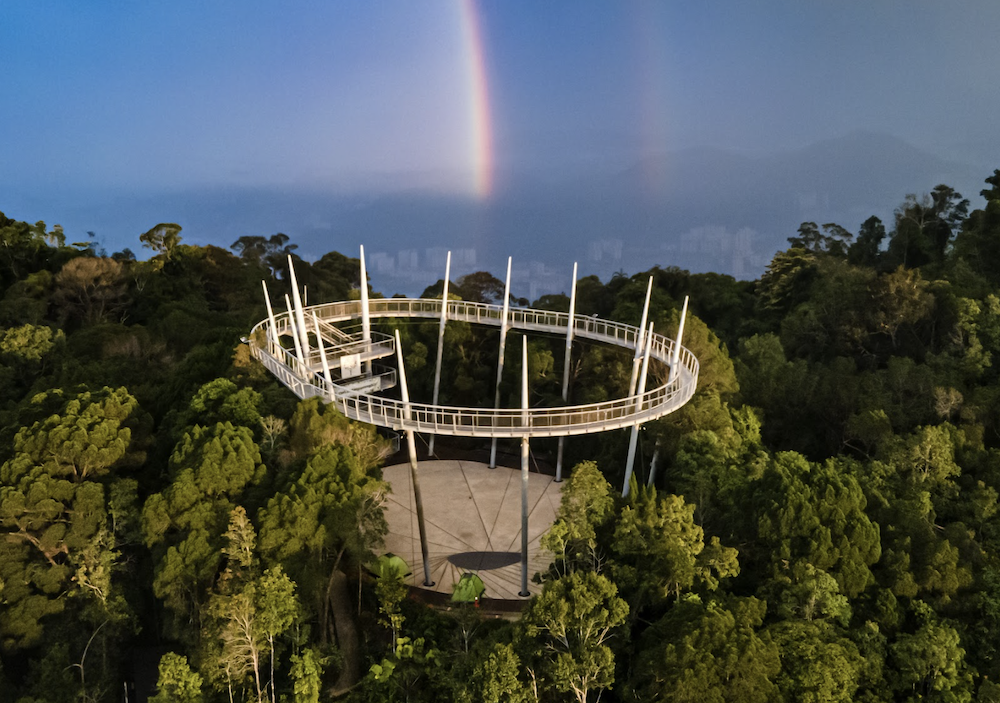 Curtis Crest Tree Top Walk

The highest accessible viewing platform on Penang Island

Longest double span stressed ribbon bridge in the world

Over 2,500 species call our rainforest home

Sustainable retail and F&B offering
---
Activities and Experiences
Experience the rainforest at a whole new level
Take in the forest atmosphere in a tranquil Shinrin-yoku session
Explore the park nighttime secrets and camp out among the stars
Marvel at the sunset at the highest accessible observation platform on Penang island
Immerse yourself in the world's first virtual habitat in 360°, 4K VR
---
Tickets
Operation Hours
General Park Admission
Opens Daily
9:00AM-8:00PM
(Last entry at 6:30PM)
KOMMUNE Penang Hill
Opens Daily
9:00AM-5:00PM
---
Location Map
---
How to get up to Penang Hill
TRAIN
Take a ride on the historic Penang Hill funicular train from the Lower Station Penang Hill
HIKE
There are several hiking trails up to Penang Hill with various levels of difficulty
JEEP
Ride up to Penang Hill via the Jeep trail at Penang Botanical Gardens in a private 4×4