Message from Our Founders
Our family moved to Penang Hill over 30 years ago and fell in love with the rolling hills, rainforest valleys, and diverse wildlife that call this area home. We believe that everyone should have the opportunity to experience this connection to the natural world, and that's why we built The Habitat, a place where guests can reconnect with nature and learn about the importance of preserving biodiversity.
At The Habitat, we aim to provide hands-on education and tangible experiences that promote conservation and preservation of natural habitats. We understand the importance of protecting our planet for future generations so we've pledged the proceeds of our park to The Habitat Foundation, whose mission is to support initiatives in education, research, and sustainable tourism that conserve biodiversity. Additionally, the foundation provides grants to researchers both in Malaysia and beyond, to support research that expands our knowledge of the environment and helps make evidence-based decisions in addressing the threats facing our planet.
We are committed to doing our part to ensure that the world we love is preserved for all future generations. Thank you for visiting The Habitat Penang Hill, and we hope you enjoy your experience.
---
Milestones
2012
---
We win the bid to set up an eco-tourism proposition atop Penang Hill. Our bid underlines the importance to preserve the timeless rainforest and its inhabitants that envelope the surroundings whilst creating a space in which people can be inspired and reconnect with nature.


2016
---
The Habitat Penang Hill officially opens for guests. Our opening was officiated by the Rt. Hon. Chief Minister of Penang, YB Lim Guan Eng. The park comprised of a 1.6km nature trail that straddles the permanent rainforest reserve. This rainforest is 130 million years old.
2017
---
Doubling down on our mission to be environmental stewards, The Habitat Foundation was set up to advance the conservation of biodiversity and natural ecosystems in Malaysia and Southeast Asia. Proceeds of the park are pledged to the Foundation to enable their work.
2021
---
On 15 September 2021, over 15 thousand hectares of terrestrial, coastal, and marine area in the northwest of Penang Island was officially designated the Penang Hill Biosphere Reserve by the Executive Council of UNESCO's Man & The Biosphere Program. Since the idea was first conceived in 2017 during The Habitat BioBlitz, The Habitat Group has been key in making this UNESCO designation a reality.
2022
---
What a dream! The Habitat Penang Hill is now a B Corp Certified company. We join a club of over 6,000 companies around the world that are committed in making their businesses a force for good. Above all, doing good for our communities and our planet feels good.

---
The Habitat Foundation
Established in 2013, The Habitat Foundation is a non-profit organization established to advance the conservation of biodiversity and natural ecosystems in Malaysia and Southeast Asia. We work with diverse partners and stakeholders on conservation, research, education, and sustainability initiatives. Through our grants and Foundation-led programmes, our goal is to nurture the essential transformations in our society to safeguard the living planet upon which all life depends.
FIVE PILLARS OF THE HABITAT FOUNDATION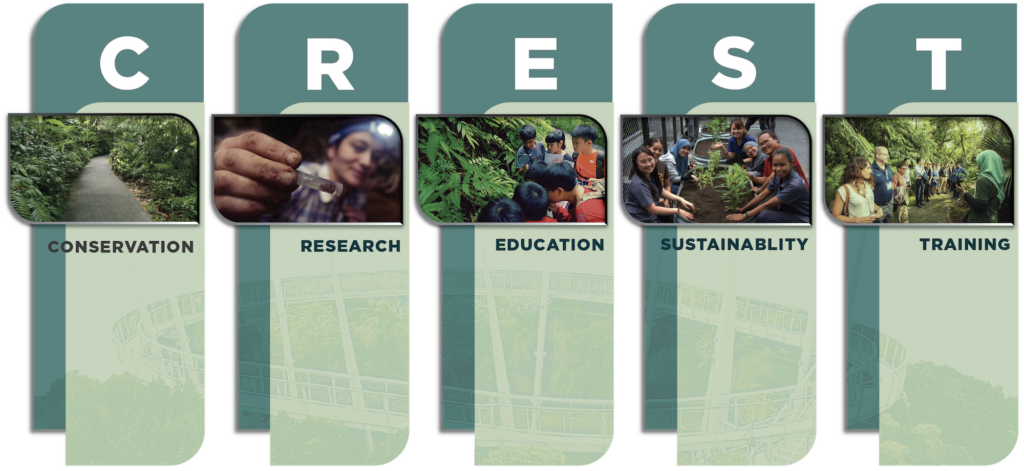 ---
B Corp Certification
The Habitat Penang Hill. Certified B Corporation.
We are thrilled to announce that we are now a B Corp certified company. This is a reflection of our ongoing commitment to creating positive social and environmental impact in our community and beyond. At The Habitat Penang Hill, we believe that businesses have a responsibility to operate in a way that benefits society and the planet. Being a B Corp company reinforces this belief and provides a framework for us to continually improve and be accountable for our actions. We are proud to join the community of B Corp companies around the world and look forward to working together to create a more sustainable and just world. Doing good feels good.
What does it take to be certified?
To become a B Corp, companies have to go through a thorough assessment, covering everything from their business model, core processes and worker rights to documentation on site visits, environmental action and good governance.

Answers to a total of 200 questions have to be provided, along with supporting evidence. Together with two independent analysts, B Lab then reviews the data and determines a score based on the B Impact Assessment Scale.

80 points are required to qualify. A tough hurdle: Of the 50,000+ companies that tried, only 7% qualified. Once certified, B Corps must re-apply and undergo the verification process again every three years.